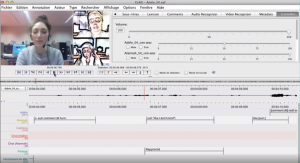 Cet axe MULTIMODALITE a trait aux différents travaux que j'ai menés sur l'orchestration des ressources multimodales dans l'enseignement et l'apprentissage d'une langue.  D'une réflexion initiale sur l'intégration de différentes modes sémiotiques dans une interface, la réflexion s'est enrichie par le biais du travail autour du développement d'une interface de visioconférence (avec Yannick Prié et Mireille Bétrancourt au cours du projet ITHACA), de l'enseignement d'une langue en ligne (en particulier avec Christine Develotte, Cathy Cohen et Rick Kern), la mise en place d'un corpus multimodal partageable (en particulier avec Ciara Wigham), l'étude des éléments co-verbaux (avec Marion Tellier et Benjamin Holt).
Publications liées à cet axe :
Guichon, N. (2017). Sharing a multimodal corpus to study webcam-mediated language teaching. Language Learning and Technology. 21(1), pp. 55–74.
Guichon, N. & Wigham, C. R. (2016). A semiotic perspective on webconferencing-supported language teaching, ReCALL 28(1), pp. 62-82.
Guichon, N. & Cohen, C. (2016). Multimodality and CALL. In Farr, F & Murray, L. (eds.). ​The Routledge Handbook of Language Learning and Technology. London: Routledge. pp. 509-521.
Cohen, C. & Guichon, N. (2016). Analyzing multimodal resources in pedagogical online exchanges: Methodological issues and challenges. In Caws, C. & Hamel, M.-J., Language-Learner Computer Interactions: Theory, Methodology and CALL Applications. New York, NY: John Benjamins. pp. 187–213​.
Holt, B., Tellier, M. & Guichon, N. (2015). The use of teaching gestures in an online multimodal environment: the case of incomprehension sequences. Proceedings of Gesture and Speech in Interaction 4th Edition. Nantes, France.
Guichon, N. & Cohen, C. (2014). The impact of the webcam on an online L2 interaction. Canadian Modern Language Review, 70(3), pp. 331–354.
Guichon, N. (2013). Une approche sémio-didactique de l'activité de l'enseignant de langue en ligne: réflexions méthodologiques. Education & Didactique, 7(1), pp. 101-115.
Guichon, N. (2010).Preparatory study for the design of a desktop videoconferencing platform for synchronous language teaching. Computer Assisted Language Learning. 23(2), pp. 171-184.
Develotte, C., Guichon, N. & Vincent, C. (2010). The use of the webcam for teaching a foreign language in a desktop videoconferencing environment, ReCALL, 23(3), pp. 293-312.
Guichon, N. & McLornan, S. (2008). The effects of multimodality on L2 learners: Implications for CALL resource design. System, 36(1), pp 85-93.